Xintara Retreats is set in the magical location of Sintra in Portugal,  known since ancient times as 'Mons Lunae' –  the mountain of the moon.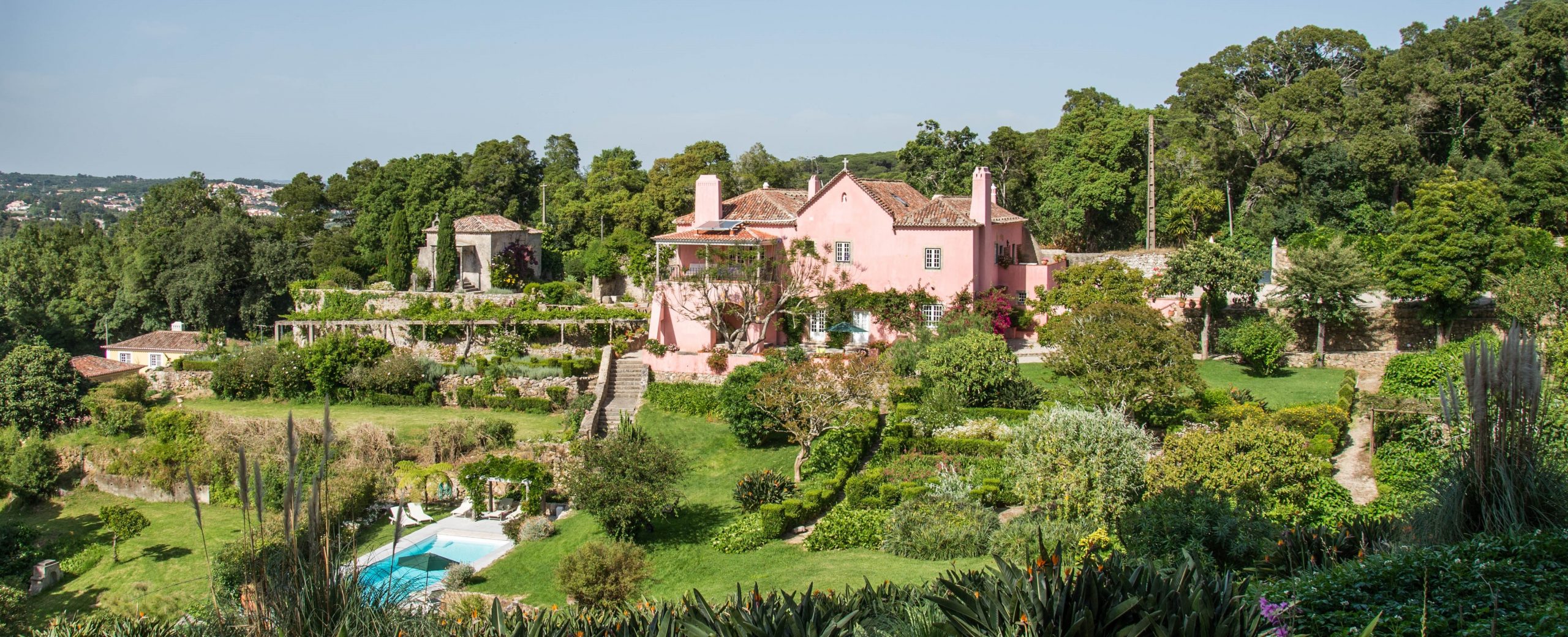 We host and provide quality retreats in a fabulous location in the Sintra mountains. If you are looking for a week of calm reflection or the opportunity to try something new then please have a look at what we have to offer.

We can also help you if you are a retreat leader and are looking for a wonderful location to run your retreat.
Our team
The Xintara team will look after you during your stay. From delivering yoga classes, managing your excursions to cooking your food. Whatever you need, we will provide. Hosting retreats in a Sintra paradise is a tough job but someone has to do it!
Our history
Nestled in the glorious UNESCO protected Sintra mountain range, Xintara is a 16th century manor house and monastic retreat. Sintra itself is steeped in history and each of our rooms is named after those who fell in love with the region.
Yoga & wellbeing retreats
Our yoga and wellbeing retreats will give you the opportunity to step away from the world and focus on pure relaxation. With twice daily yoga sessions from qualified yoga teachers, yoga nidra and meditation, wellbeing coaching and holistic massage therapy you can't help but treat yourself and unwind.
Culture & cuisine retreats
Our Culture and Cuisine breaks are designed to give you a privately guided insider view of the amazing cultural highlights of Sintra in combination with a delicious daily menu prepared by our Chef. We invite you to treat your cultural senses and taste buds to a unique and memorable experience.
Arts retreats
Our Arts retreats benefit from the unique backdrop of the natural beauty of Sintra's coastal mountain range and Xintara's stunning gardens. Whether it is painting a watercolour of the Quinta from the forest or taking photographs of a dramatic coastal sunrise, this is an ideal opportunity to relaunch your artistic aspirations.
"A beautiful 16th Century, family owned Quinta, set in magnificent gardens and located in the hills of Sintra, within easy travelling distance of Lisbon, makes for a unique and special experience. This is a perfect venue for well-being retreats, cultural visits and sporting activities. The property is maintained and catered by loyal staff who have worked for the family for years making for a relaxed and comfortable stay, with the personal touch you simply wouldn't find in a hotel."

"You can't help but relax at the Quinta! Beautiful historical property nested in a stunning garden with views over the hills, right to the Ocean. Delicious food cooked with local fresh produce. The holiday is designed so you can relax and look after yourself with yoga and meditation classes and also plenty of free time to enjoy the pool and read your book in peace! You can also discover all the beauty of the Sintra area and its extraordinary heritage".

"What an incredible place! The peace and tranquillity of Sao Bento makes one instantly relax. A beautiful family home set in stunning gardens and offering majestic views. A truly luxurious experience that leaves you revived and rebalanced."

" I cannot speak highly enough of the beautiful tranquil gardens and home. This together with the exceptional staff and wellbeing experiences, made this an unforgettable few days. I would recommend this to anyone in need of total relaxation"

"Xintara is a home-from-home sanctuary. As it is occupied by the family for part of the year, every little detail has been thought of, from reliable wifi and comfortable beds to the stunning tiered gardens and delicious food. I came away feeling refreshed and rejuvenated and would return in a heartbeat."

"Unique location, hospitality, food, activities, well-being to revive and revitalise"
Don't miss out on our latest retreats.
Join our mailing list and we'll keep you updated with the latest information and booking details.